January 11, 2019
Liza Sylvestre and Christopher Robert Jones: Flashlight Project
Land and Sea. Oakland, CA
Heavy Breathing presents
Flashlight Project
by Liza Sylvestre and Christopher Robert Jones. Flashlight Project addresses a need to reconfigure conversation models to consider individuals with differing levels of sensory ability. Join us in a 'conversation' that is accessed through a gesture of visibility and identification. We are interested in how exploring the intersection of learned systems of body and language disrupts systems of normativity.
We want participants to come away from our workshop questioning normative modes of communication design and want them to pay specific attention to the demarcation between the private and social body, one that is predicated upon compulsory able-bodiedness. We desire to focus on how subjectivities are shaped by systems of meaning and access and how they, in turn, can be used to create space for others.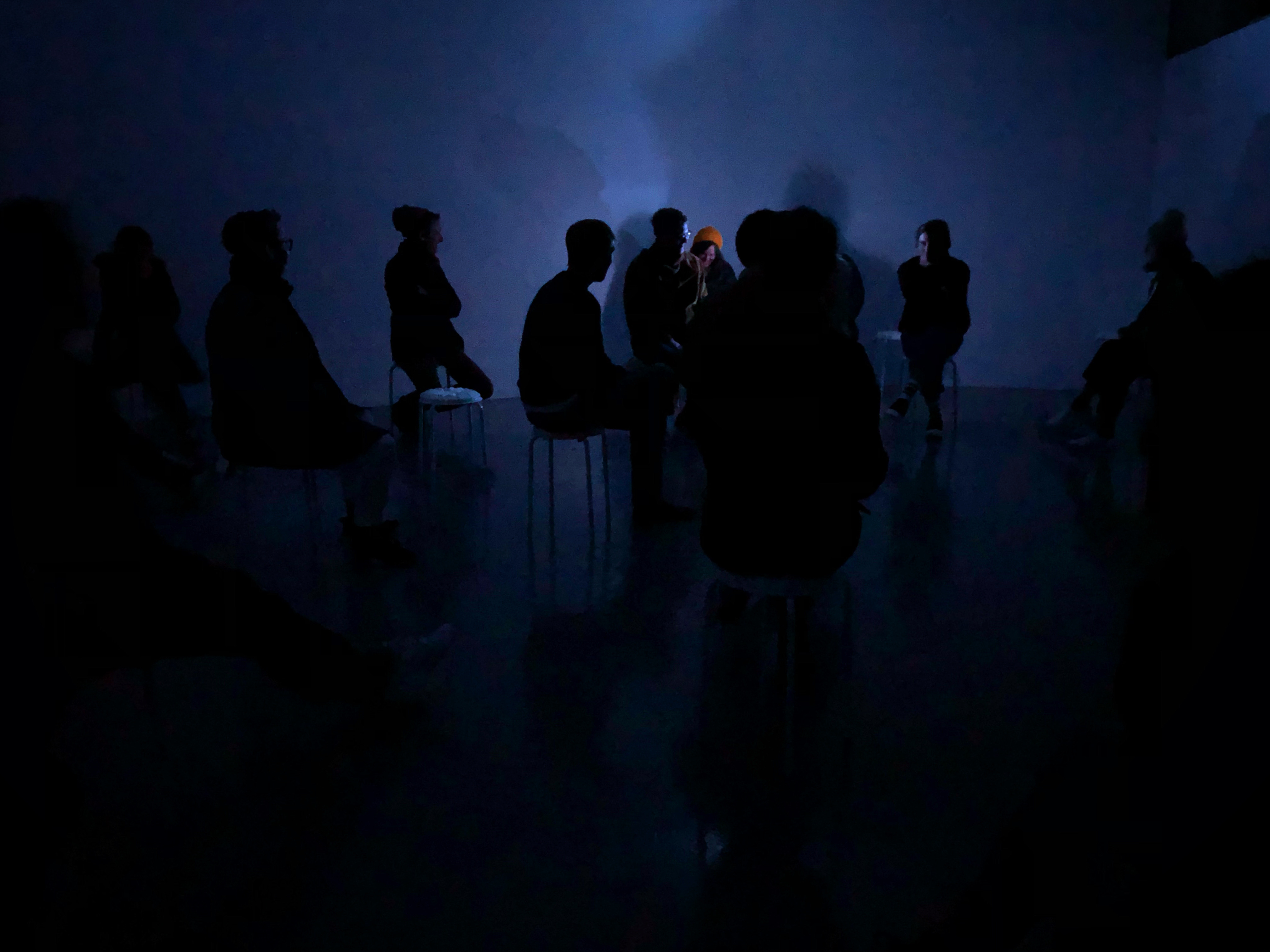 WORKSHOP DETAILS

January 11, 2019 6:00-7:00pm
Doors at 5:30pm

Land and Sea
5428 San Pablo Ave, Oakland

FREE + OPEN TO THE PUBLIC. Wheelchair accessible.

Suggested Readings:
Our practices are based on an understanding of and belief in Crip Theory and intersectional thinking. Although it is not necessary to have read Robert McMruer's Crip Theory before attending our workshop, we certainly hope you read it at some point.

BIOS
Liza Sylvestre
is the co-founder of Creating Language Through Arts, an educational arts residency that focuses on using art as a means of communication when there are language barriers present due to hearing loss. In 2014 she was awarded both and Artists Initiative and Arts Learning grant from the Minnesota State Arts Board. Recently she has been the recipient of a VSA Jerome Emerging Artists Grant, a fellowship through Art(ists) on the Verge and an Art Works grant from the National Endowment for the Arts. Her work has been shown nationally at venues including The Plains Art Museum, the Weisman Art Museum, Roots and Culture, Lease Agreement Gallery, the Minnesota Museum of American Art, and Soo VAC. Her work has been written about in Art in America, Mousse Magazine, SciArt Magazine and the Weisman Art Museum's Incubator Web Platform. Most recently Sylvestre has served as the artist in residence at the Center for Applied Translational Sensory Science and the Weisman Art Museum in Minneapolis, MN. In February 2019 the Minnesota Commission of the Deaf, DeafBlind, and Hard of Hearing (MNCDHH) awarded Sylvestre a Citizen Advocate Award for her exemplary work in advocating for and with deaf, deafblind, and hard of hearing Minnesotans. During the 2019/20 academic year Sylvestre is a Kate Neal Kinley fellow completing work at Gallery 400 and the University of Chicago, and a lecturer at the School of the Art Institute of Chicago.
Christopher Robert Jones is an interdisciplinary artist based in Illinois. Their research is centered around the 'failure' or 'malfunctioning' of the body and how those experiences are situated at points of intersection between queer and crip discourses. Using sculpture, installation, and performance strategies, their work aims to create ruptures in the layers of cultural/political/historical sediment through which compulsory normativity and compulsory ablebodiedness are disseminated. Christopher received B.A.s in Art Studio and Technocultural studies from UC Davis and is currently a M.F.A. candidate at the University of Illinois in Urbana-Champaign.