October 20, 2016
Sofía Córdova: Featuring XUXA SANTAMARIA
Army of Lovers
Starline Social Club, Oakland
Sofía Córdova leads a FREE guided, spoken word meditation atop a live set featuring select tracks emblematic of key moments in dance music history to explore the transcendental physical and psychic possibilities the dancefloor provides (and has historically provided) for the colored, marginalized body. The meditation will flow into a DJ set by Córdova followed by a set by XUXA SANTAMARIA, Córdova's music project with Matthew Kirkland.

While ARMY OF DARKNESS is built around the skeleton of a traditional meditation, the music in the sets have been selected to transport the listeners/dancers/participants through the histories of dance music via the inclusion of classic tracks from motown to early hip hop to detroit and chicago house to latin freestyle and up to contemporary genres like hyphy and reggaeton, with select detours into the micro genres that have come to define music post internet. While Córdova's proposition is one of meditative liberation, attendants can expect to get down, get they lives and get free.



Risograph flyer designed & printed by
David Wilson
ARTIST BIO
Born in 1985 in Carolina, Puerto Rico and currently based in Oakland, California,
Sofía Córdova
's work considers sci-fi and futurity, dance and music culture(s), the internet, mystical things, extinction and mutation, migration, and climate change under the conditions of late capitalism and its technologies.
She first moved to the US to attend the early college program at Simon's Rock College of Bard in Great Barrington, Massachusetts. She completed her BFA at St. John's University in conjunction with the International Center for Photography in New York City in 2006. In 2010 She received her MFA from the California College of the Arts in San Francisco. She has exhibited and performed at SFMOMA, the Berkeley Art Museum, the Arizona State University Museum, the Vincent Price Museum, and other venues internationally such as Art Hub in Shanghai and the MEWO Kunsthalle in Germany. She has participated in residencies at the BAVC in San Francisco, Arteles in Finland, Mills College Museum in Oakland and the ASU Museum's International Artist residency in Phoenix. Most recently she produced a new suite of performances, videos and sound compositions in Spain in an artist exchange supported by Spanish embassy in Washington DC and the city of Málaga, Spain. Córdova was awarded a 2018 Headlands Center for the Arts Residency and her work is part of Pier 24's and The Whitney Museum's permanent collections and has been the subject of a First Look feature in Art in America.
She is one half of the music duo,
XUXA SANTAMARIA
. Through this project she scores all of her video and performance work.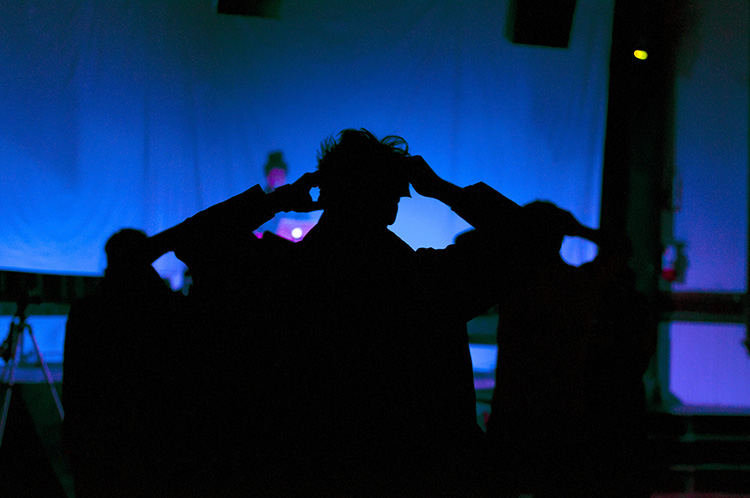 Photo Credit: Andrea Carazo